I've never been very adventurous when it comes to my hair.. Call me meek but I've never really trusted anyone enough to do crazy things to my hair. Until recently I felt like it was time to finally change and had it dyed RED! And I loved it so much! After some googling I also discovered many celebs are dying their hair red this season, such as Ariana Grande and Cheryl Cole.
Big and bright colours are definitely trending this 2013 and L'Oréal is once again at the forefront with ithe World's No. 1 Haircolour - L'Oréal Paris Excellence Fashion. Launching this very month, L'Oréal Paris Excellence is a high quality solid DIY hair colour brand in Singapore that is introducing a BRAND NEW line of fashion shades inspired by Parisian glamour. It's so so elegant.
There are four shades of red for you to choose from - P64 Intense Copper Red, P66 Intense Spicy Red, P56 Intense Violet Red and P46 Intense Ruby Red. Personally I'd go for the P46 ;) It really depends on your preference and skin tone!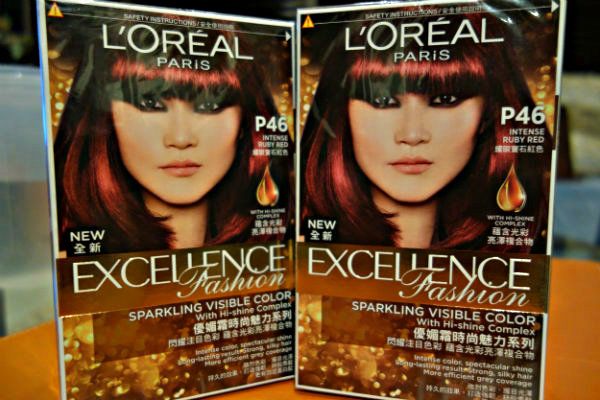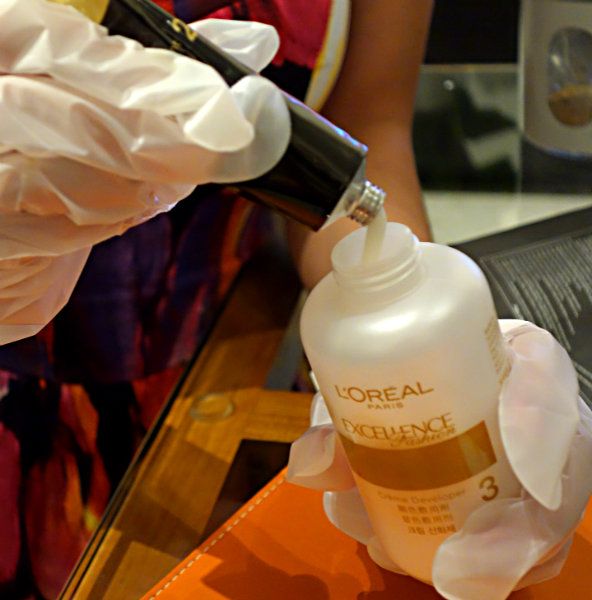 The colouring process is so unbelievably easy. Before starting remember to cover your floor with newspaper and don old clothing that you don't mind getting stained by colour! Use an old towel, too, and a useful tip would be to rub Vaseline around your hairline and ears to prevent colour staining. There is an instruction guide that provides very good step-by-step instructions along with gloves in the box..
I did some research after dying my hair and found out that red is one of the hardest colours to keep in your hair!! But if you take good care of it post-colour, it's possible to maintain it so no worries. The best thing about L'Oréal Paris Excellence Fashion is that it not only guarantees a rich, vibrant reddish makeover but also strengthens and protects your hair! The new formula from L'Oréal Paris Excellence Fashion contains Hi-Shine Complex, which guarantees spectacular brilliance and shine, Hi-Intensity Pigments, for rich and intense colour, and Triple-Care Formula that protects, strengthens and nourishes your hair while colouring to ensure it stays strong and soft!!
Dying my hair is always scary for me because it affects the hair roots. Some post-colour protection that you can take are to use a shampoo and conditioner specifically for colour-treated hair 2 weeks after colouring. These 2 weeks are crucial because your hair is most vulnerable and you also want to lock in the colour! So I recommend L'Oréal Paris Hair Expertise EverPure Range because it's soooo good really. 100% sulfate-free, which means that it does not strip your colour and keep it pure even after 32 washes. My colour stayed strong and bright after using this ;)
It's the New Year and time to experience new things so why not shed the old hair colour and wear the vibrancy of rich ruby, copper and violet tones in your hair? :) What I like about L'Oréal Paris Excellence Fashion is that it's designed to suit the unique skin and eye tones of Asian women.
Time to channel your inner celeb flamboyance ;) Find L'Oréal Paris Excellence Fashion at Watsons, Guardian, supermarkets and departmental stores!
Excellence Fashion is at a special introductory price of $15.90 (U.P. $18.90) for the month of January!