Singapore's weather is slowly starting to leave its cool days and nights behind.. and it seems to be a lot hotter these days
Being someone who gets tanned too easily, I'm always on the search for a good quality sunscreen. Was so happy when
Bioré's UV Watery Essence was introduced to me! Despite having high SPF of 50+ and a superior long-lasting double UV Block, this water-based lotion is surprisingly super light and refreshing. After using it I realized my skin feels softer, and later I discovered that its formula is designed to hydrate and soften the skin!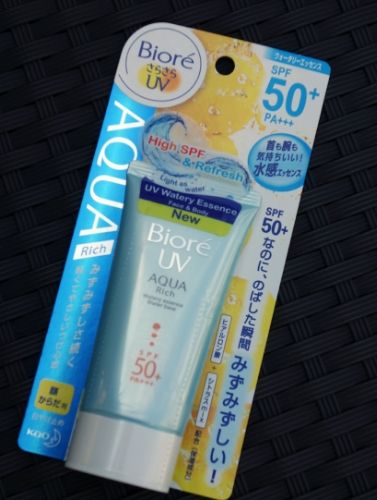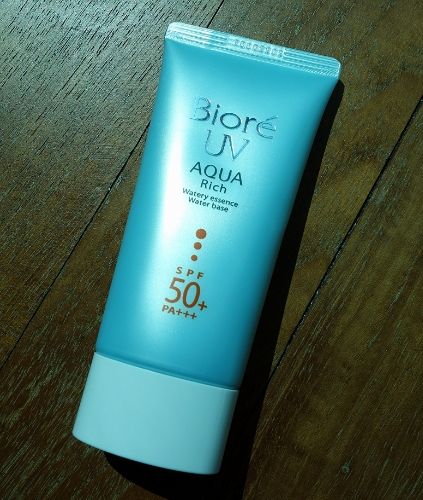 Absolutely love how lightweight this sunscreen is! Not too creamy or greasy at all!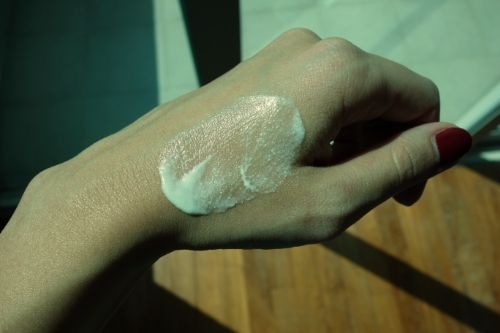 And it gets absorbed instantly into the skin.
Unlike other sunblocks, which always somehow feel sticky and greasy, Bioré's UV Watery Essence absorbs beautifully into the skin and has texture that turns into water upon application on the skin. It's SO amazing!! Best of all, it doesn't leave a white overcast on your skin.
Here's a comparison between my usual sunscreen & Bioré's UV Watery Essence.
My usual sunscreen is very much thicker and creamier compared the Bioré's UV Watery Essence's which is so much lighter & water-based!
The latter is also absorbed easily into the skin as compared to the former.
Anyway I did a little googling on the harmful effects of sunlight on skin, and found out that there are two main types of ultraviolet – UVA and UVB. UVA causes skin aging, and 95% of it reaches us, while UVB burns your skin, with 5% of it affecting us. I was honestly quite mortified… It's so important to use sunscreen not only for aesthetic purposes but also to protect your skin from the scorching sunlight.
I also read about PA (Protection Grade for UVA), and realized that the more '+'s, the more protection the sunscreen offers. And Bioré's UV Watery Essence offers PA+++!! Most suitable for those who spend long hours in the sun. :)
Have been trying out this sunscreen for a couple of days and I must say that I'm really loving it!
Apply it after your usual skincare regime & before any make-up!
It's now part of my daily skincare & make-up regime too!
Bobbi Brown Eye Liner Gel / Bioré UV Watery Essence / Dr. GL Face Powder / Laura Mercier Concealer Pot / Maybelline Blusher / Vaseline Lip Therapy
Especially on hot and humid days when I have to be outdoors running from meeting to meeting and other such errands, Bioré's's UV Watery Essence is perfect for me. This is the No. 1 Suncreen in Japan since 2011, and has even won several awards in Asia!! So glad it finally made its way to Singapore. You can buy a bottle (50ml) for $18.90 at selected supermarkets, hypermarkets and pharmacies.
For those who are not used to applying sunblock everyday, please don't be lazy.. Remember to start protecting your skin with sunscreen before it's too late!!!!